Benefits of Summer Scholars Bridge Academy
2024 Summer Scholars Bridge Academy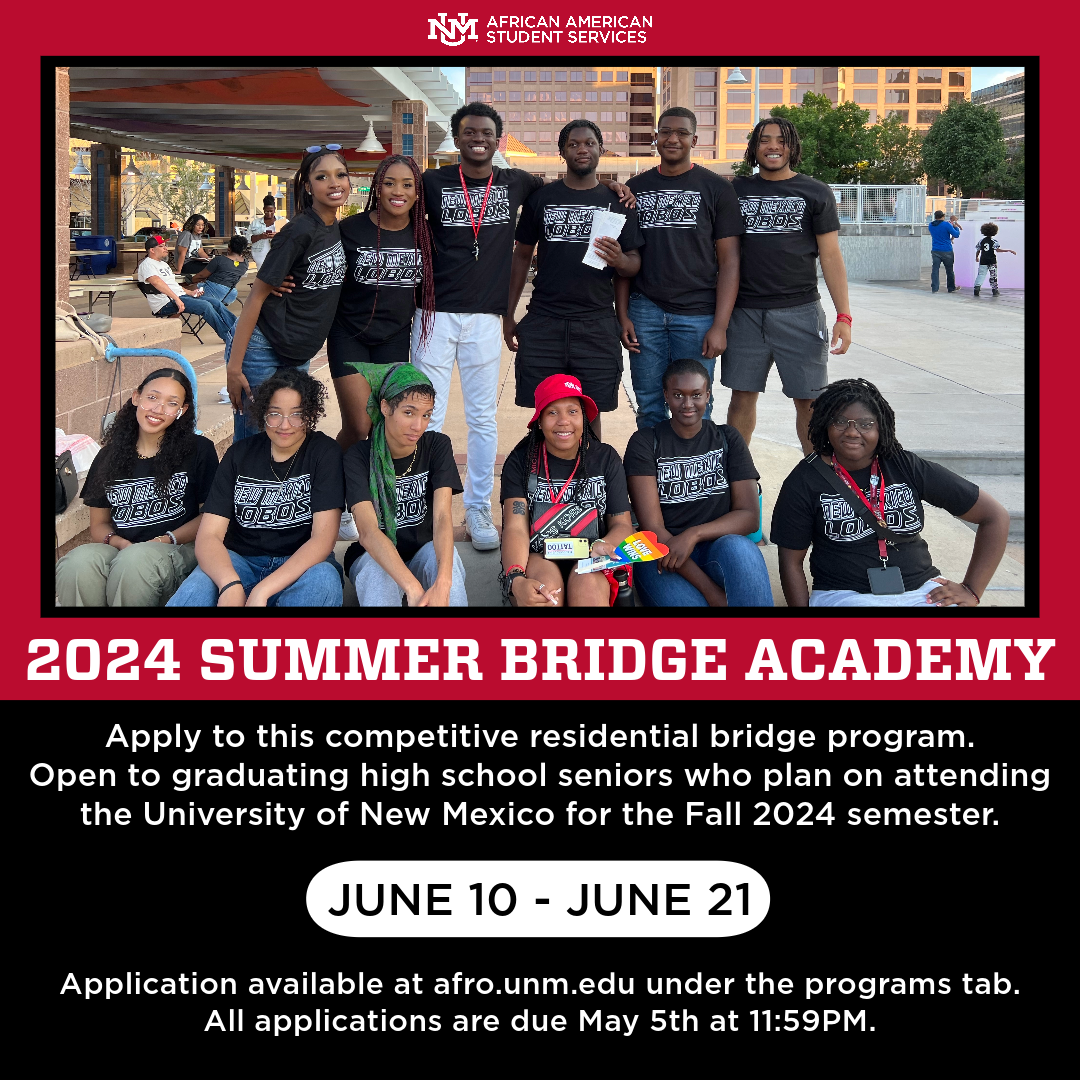 Application Requirements and Checklist
This is a competitive, fast-paced summer bridge program. In order to maintain standards and ensure student success, there are requirements that must be met and followed in order for your application to be considered. Please see the requirements below.
DEADLINE:  May 5th, 2024 at 11:59PM
Requirements and Expectations:
Applicants must be accepted and attending the University of New Mexico for the Fall 2022 Term

Applicants must reside on campus during the program and adhere to housing and AASS guidelines. 

Applicants must enroll in and complete the New Student Orientation BEFORE attending the Summer Scholar Academy and provide confirmation of scheduled orientation. Sessions before the program may be full. Please sign up for an open session and our office will coordinate with NSO to get you moved to an earlier session.

Submit proof of enrollment in an orientation session (screenshot of confirmation email acceptable).

Must complete a 400-word interest essay which must answer the following questions:    

Details about your education and career goals. 
What is your involvement in the community?  
Why do you want to participate in this summer program? 
What are your expectations from this program? 
Why do you think involvement in African American Student Services is important?

A tuition scholarship will be awarded to students who successfully complete their 3 credit Summer 2024 Africana Studies course with a grade of B or higher and their 3 Credit Fall 2024 First Year Experience Course with a grade of B or higher. 

<

African American Student Services will cover the cost of program materials, meals,  and housing during the summer dates of the program. 

Applicants will be expected to meet with Academy Staff for four consecutive semesters upon the completion of the program.
Please call to verify that your application was received.
505.277.3095