2021 Summer Scholars Bridge Academy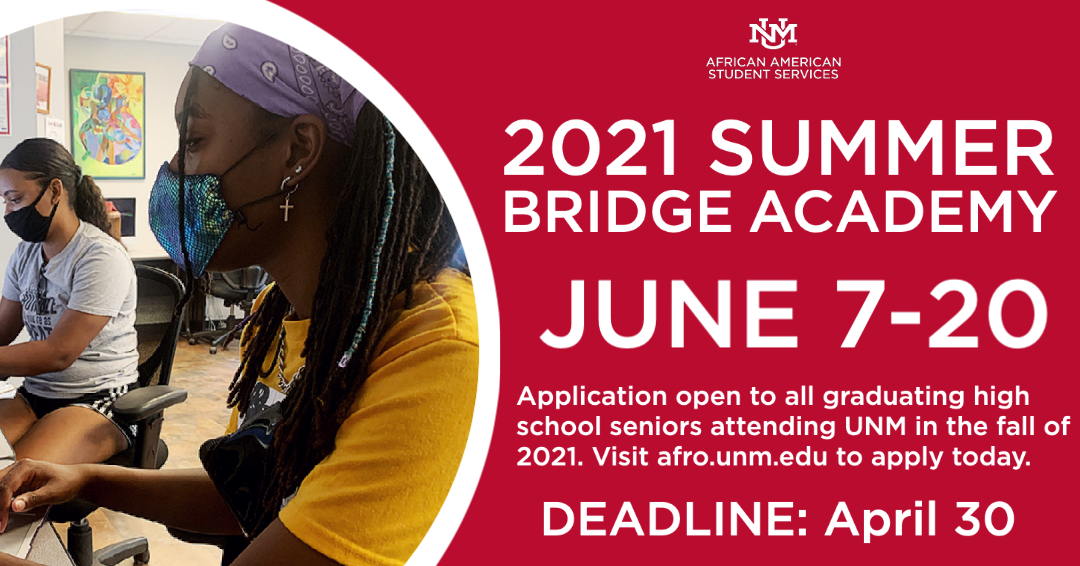 Application Requirements and Checklist
This is a competitive, fast-paced summer academy. In order to maintain standards and ensure student success, there are requirements that must be met and followed in order for your application to be considered. Please see the requirements below.
DEADLINE HAS BEEN EXTENDED TO:  APRIL 31, 2021
Requirements and Expectations:
Applicants must be accepted and attending the University of New Mexico for the Fall 2021 Term

Applicants must enroll in and complete the New Student Orientation BEFORE attending the Summer Scholar Academy and provide confirmation of scheduled orientation. Staff in African American Student Services can provide recommendation for NSO session dates. 


Submit proof of enrollment in an orientation session (confirmation email acceptable).

3.0 GPA Recommended

 ONE Letter of Recommendation (NO FAMILY MEMBERS)




Must complete a 450-750 word interest essay which must answer the following questions:

Details about your education and career goals.

What is your involvement in the community? Why is community service important to you?

Why do you want to participate in this summer academy?

What are your expectations from this academy?

Why do you think involvement in African American Student Services is important?




A tuition scholarship will be awarded to students who successfully complete their 1 credit hour summer course with a grade of C or higher and their Fall 2021 Africana Studies course with a grade of C or higher.

African American Student Services will cover the cost of program materials, meals during the program and housing (pending COVID19 policies and ability to meet in person)

Applicants will be expected to meet with Academy Staff for four consecutive semesters upon the completion of the program.

Due to COVID-19 and rapid changes to state guidance and university policy, our staff are ready to accommodate both an in-person program and virtual program pending COVID-19 guidelines for summer participation.

 
Please call to verify that application was received.
505.277.5645